Notice Regarding Shipping Outside Japan
---
Thank you for visiting Claw Machine Master.

Transportation costs in the logistics industry continue to rise worldwide, and in June 2021, Japan Post increased its delivery costs.
Even after the fare increase, we have continued to make every effort to ensure that our customers have a pleasant experience.
However, further delivery cost increases in June 2022 made it difficult to maintain the status quo.

Therefore, effective Apr 28, 2023, we will revise some of our shipping rules for shipments outside Japan.
We apologize for any inconvenience this may cause to current customers and appreciate your understanding.

Japanese notation can be found here.
Chinese notation can be found here.


Shipping Methods and Shipping Costs
You can now choose between airmail and surface mail for international shipping.
*Airmail may not be available depending on the number of prizes delivered at one time. A certain additional charge (points) will be required depending on the presence or absence of a delivery ticket, delivery area, delivery method, and quantity of prizes.
Please refer to the following list for shipping charges.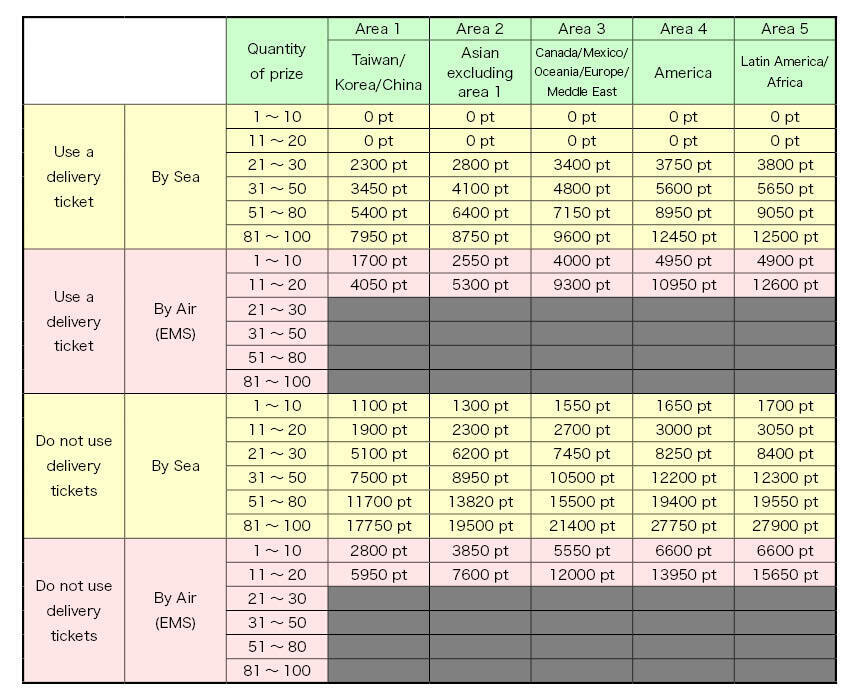 *Airmail is available at no extra charge only for the first delivery.(The number of items that can be requested for delivery at one time is limited to 20.)
*Please note that shipping costs vary depending on the destination country or region.
*Estimated time from shipment to arrival varies by country and region, but is approximately 3-14 days by air and 30-90 days by sea.
*Delivery may be delayed due to international circumstances, natural disasters, or shipping company reasons.
*Please note that delivery may be suspended in some areas due to the global situation.

There will be no change in the conditions for distribution of free delivery tickets.
Please refer to the details page for distribution conditions.

For more information, please click here.


Other Notices
~~~Notes on Food~~~
For food-based prizes, the expiration date is listed in the detailed description section of each prize.
If food expires during the delivery period, we do not guarantee the exchange of prizes or the return of points used.

When requesting food shipments, please take into consideration the number of days required for delivery.


~~~Areas where delivery is suspended~~~
Due to the global spread of the COVID‑19 infection and the shortage of containers, there are currently some areas where deliveries from Japan have been temporarily suspended.

Areas where deliveries will be suspended are as follows. *As of Feb. 22, 2023

| | |
| --- | --- |
| [All deliveries are being suspended.] | Azerbaijan, El Salvador, Sierra Leone, Jamaica, Syria, Zimbabwe, Solomon Islands, Papua New Guinea, Paraguay, Barbados, Brunei, Venezuela, Botswana |
| [Shipping by air is being suspended.] | Iceland, Andorra, Estonia, Gadroop, North Macedonia, Croatia, Saint Pierre and Miquelon, Slovakia, Slovenia, Fiji, Puerto Rico, French Guiana, Bulgaria |
| [Shipping by sea is being suspended.] | Argentina, Iraq, Iran, Uganda, Ukraine, Ecuador, Egypt, Ethiopia, Ghana, Qatar, Cuba, Kuwait, Kenya |
For areas where airmail (EMS) is suspended, we will deliver by sea. For areas where all delivery services are suspended, we will deliver in order as soon as they are resumed.
We apologize for any inconvenience this may cause and appreciate your understanding.
~~~Shipping Address of User Registration Information~~~
Please register your shipping address information in
English.
Please note that if the address is written in any language other than English, it will be treated as undeliverable and we will not be able to make any deliveries.
If you request delivery with non-English shipping address information, we will contact you to correct the information.
Please note that deliveries are stored for
14 days
from the date of the delivery request.
Please note that if the shipping address information is not corrected after the retention period, the shipping request will be cancelled and the right to win prizes will be forfeited.
If you have any questions or concerns, please feel free to contact us using the contact form.
Claw Machine Master Management Team