---
 If you get the numbers and predict the numbers, it's a chance to get points!

 Lottery is held every day during the period!!


summary
STEP1:Let's get the numbers on the prizes and collect them!
STEP2:Let's predict the 2-digit number by combining the obtained numbers!
STEP3:Apply for inquiry with your expected number!
STEP4:Get points if the numbers announced the next day are correct!
Event rules
 Numbers from 0 to 9 are arranged for each prize!
 If you win a prize, get the number that is placed!
 Predict two-digit numbers from the numbers you have earned!
 The number you expect is [00-99]
 Apply any number of times a day!
 The numbers used for prediction cannot be reused!
 Lottery is done every day!
 Let's predict every day!
 
How to receive points
Inquiry form
From "Inquiry about play",
Submit the numbers for the two acquired videos and you're done!
Please wait for the next day's winning number announcement.
 
 ■Inquiry example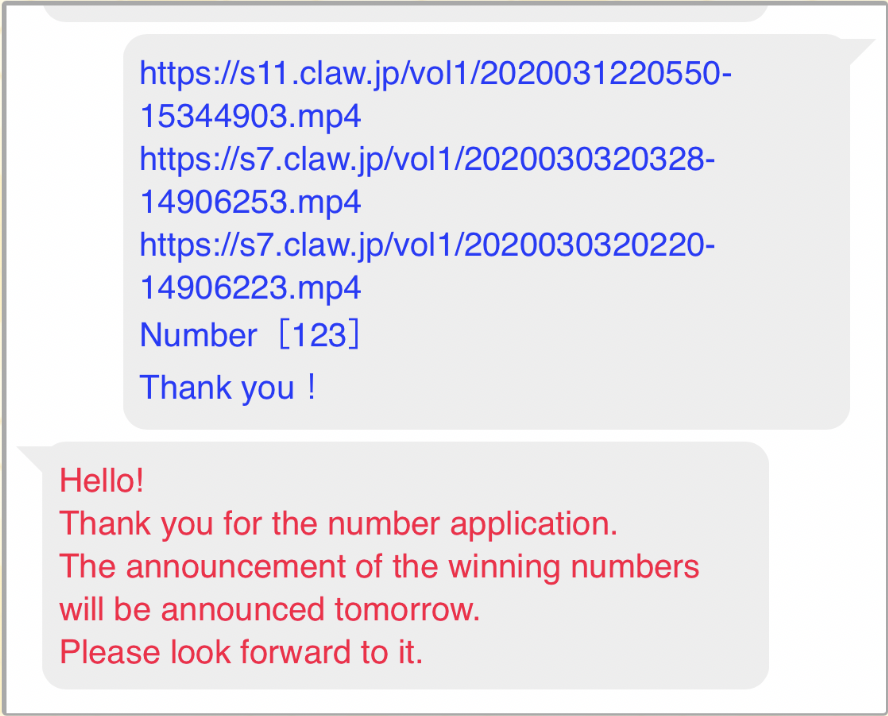 ※Please check all applicable videos at the time of application and tell us the expected 2 digit number.
※By checking "Only the acquisition is displayed", you can sort only the acquired videos.
※If there is no video attached, you can not apply
※You can apply any number of times a day.
※Only one digit can be used for the acquired numbers.
※Once you use a video, you cannot use it again.

Winning conditions
Straight
Number and order match
⇒

30000

POINT

Box
The order may be different if the numbers match
⇒

15000

POINT

Mini
One of the two numbers matches
⇒

300

POINT
If the winning number is "18", it will be straight if you anticipate "18", box if you anticipate "81", and mini if you anticipate "12", "82" or "41".

About carryover
If there is no straight winner on that day, carry over will occur and points will be added the next day!
In other words, if there is no straight winner on the first day, the straight point on the second day will be 60,000 points! ! !
If there is no winner until the last day, you will get 240,000 points! ! !

Event period
From February 10 (Mon) 0:00 to February 16 (Sun) 23:59 (JST)