Collect and BINGO! Collect the picture cards and get the points!
---
New Event "Collect and BINGO!

Just collect three identical picture cards and apply to get points!
The points will be added immediately after confirmation!

Overview
STEP1:Win prizes and collect the picture cards on each table!
STEP2:Just collect three cards with the same pattern and submit them for inquiry to get points!
STEP3:And more! If the picture cards you collect BINGO, you'll get extra BINGO points!

Event Rules
・Each crane game is labeled with a picture tag, and when you get a prize, you get the picture tag displayed on the crane.
・The cards you get can be used only once at any time during the period. You cannot use the same card twice.
  ※Only videos acquired during the event (from Feb. 22) can be used.

Gathering Rules
About distribution points
Collect three identical picture cards to enter and you'll get points!
The points vary depending on the picture cards.

・Apples, grapes, oranges, bananas 222PT
・Yacht 333PT
・Cruiser 444PT
・Sports cars, airplanes 555PT
・The bear character is an all-purpose card that can be used as any picture card.
※Each picture card can only be used as two cards plus a character.

Example)
Apples + apples + apples =222PT
Yacht + Yacht + Yacht =333PT
Apples + apples + bear character =222PT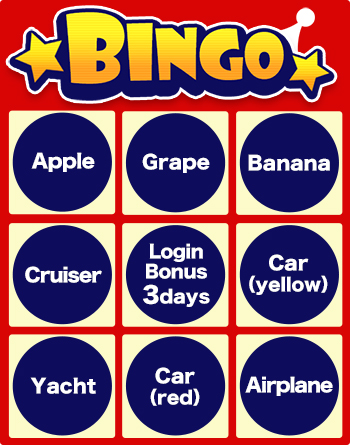 How to Apply
・Once you have obtained three identical picture cards, send all the videos of the same picture cards from the contact form "Inquiry about playing", and send the "name of the picture card" and a message to enter the contest.
Videos can be sent in batches. Please check the videos you want to use for your application and send them to us.

BINGO rules!
And get extra points!
・When three identical cards are collected, a square on the BINGO sheet is opened.
・Every time you BINGO one line (row), you will be awarded 333 PT as BINGO bonus!
・Plus, if you BINGO 8 lines (ALL lines), you will receive an additional 777 PT!
※When you get a bingo, please send "BINGO" from the inquiry form "Inquiry about playing" to apply.
※If you have completed all the bingo sheets, you can challenge for the second and third week.
※Once you have completed the "3 days login bonus" in the middle, the second and subsequent sheets will be treated as cleared.

・The following points will be awarded in total for 8-line bingo
Points for collecting
Apples 222PT
Grape 222PT
Banana 222PT
Cruiser 444PT
Car (yellow) 555PT
Car (red) 555PT
Yacht 333PT
Aircraft 555PT
Total 3108PT

BINGO points
333×8+777=3441points!

Got a total of 6549 points!


■Example of inquiry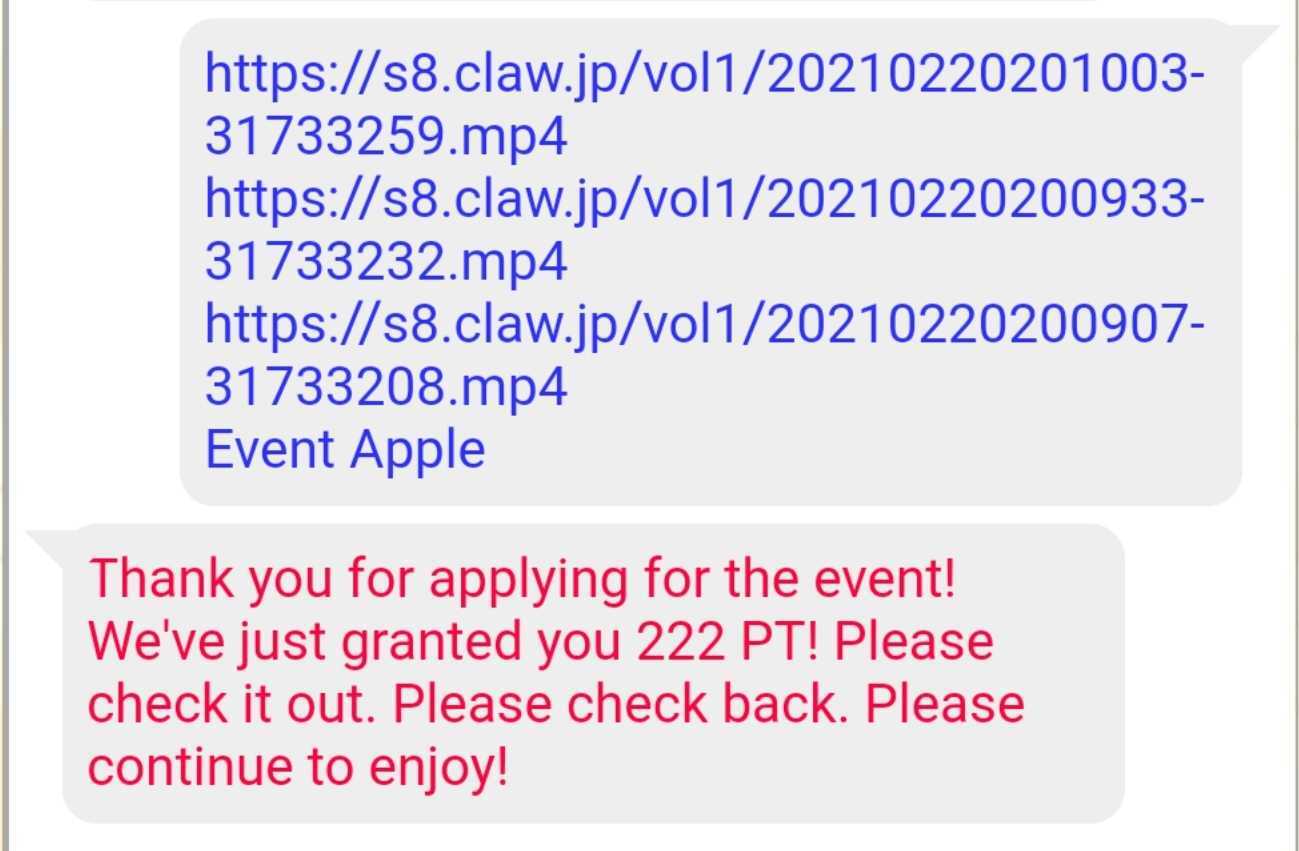 Opening period
From Monday, February 22, 0:00 to Saturday, February 27, 23:59
Results announced, event rewards distributed
Points will be awarded to those who have applied after the application is confirmed.
Please note that it may take some time to add points. Please understand beforehand.
Videos acquired prior to the event cannot be used, even if they have not yet been used.
Picture cards acquired during the period of this event will be eligible.

Kremasu Management Team